Huhuh..Hari bahagiaku..Seems like Im gonna get married again jer…buat suspen betul..Btw, hr nih terasa agak boring..So, terasa nak buat "The Making of Fairuz n Faidzal Wedding day" ..Chewah2..Yup semestinya gambar kami yg dh basi tuh dah lama ada dalam my fs and my fb and also x lupa..dalam website our
photographer
and
videographer
.. So..These are details ttg perkhwinan kami :
Nikah : 12-12-2008 (Friday)
Reception :
@Muar :
Date : 13-12-2008 (Saturday)
Venue : Home sweet home..@ Muar, Johor
Tema : Of course la PINK…(kesian hubby jadi mangsa fashion warna)..:p
Hidangan : Semestinya nasi beriani gam Johor…
@Kluang :
Date : 14-12-2009 (Sunday)
Venue :Kluang Rest House
Hidangan : this place is famous for Western and Chinese cuisines ..heheh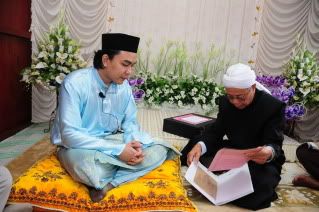 Ni saat2 akad nikah…Well utk mana-mana bakal pengantin..FYI this is the moment where jantung jadi berdebar n berdegup dengan lajunya n ada tuh siap p toilet 2-3 kali…Then kpd kaum lelaki yg dpt kaum hawa dari "JOHOR" hua2 memang sgt kompleks sikit sebab kena mengadap Jurunikah dan menjawab soalan2 agama and yg kaum hawa lak kena p pejabat Agama Kadi bersoal jawab dengan derang sblm dpt tandatangan utk approve kan tarikh…Hmmm..kalu ikut pengalamanku…hua2 (piece of cake) jer..
As for me ketika majlis akad ni..pun kena menghadap Tok Kadi juga coz nk mengesahkan yang anda tidak TERPAKSA berkahwin dengan bakal suami..huhuh..Tidak lupe jugak kepada wakil wali (menggantikan arwah ayah) pun akan disoal untuk penyerahan anak perempuannya…huuu…(Itulah prosedur2 yg ada as for org Johor)..Negeri lain, I have no idea…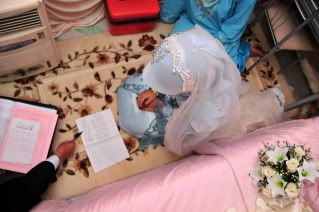 Ini lah mas kahwin ku…RM22.50 TUNAIIIIIIII….SAH! (Mas kahwin masih disimpan dlm kawalan ketat, sbb x tau lagi nk buat apa dengan mas kahwin itu)..Huhuh!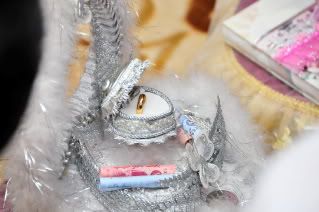 Selepas Kami sah diijabkabulkan as Husband and Wife (the moment where semua saksi2 berkata "SAH!")…Well ada lagiiii prosedur..Tok Kadi nih x cukup nak lagi suruh me, my husband and my bro (as wali) baca syarat2 selepas jadi suami isteri nih…hmmm time nih mmg bulu mata palsu and my contact lense hampir tertanggal sbb ada air mata mengelilingi bebola mata (sobbing2..)n aku tgh control x nk bg jatuh..Coz apa yg tertulis kat dalam buku tu mcm ayat2 drama…hua2 sgt terharuuu…..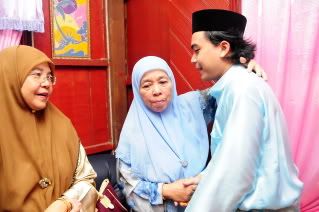 Majlis berakhir dengan selawat ke atas Nabi Muhammad S.A.W dan bersalam2an antara 2 keluarga dan saudra mara lain…
Shinggggnnkk (sound effect)….bridegroom :)
and Me…as bride..hihih (so happy! this moment)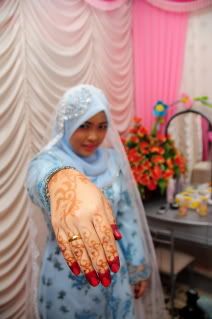 So then..selepas sesi bergambar n so on.. maka tamat la sesi pagi itu…
Sesi persalinan (untuk bride sahaja) dijalankan pada hari yang sama pd waktu petang….[to be continued : ep2]