Yup..This is the final episode for our happiness moment of my life..Saat bersanding memang sangat meriah + happening + exciting in my family..Thats one of the advantages of having big family...:P huhuh...Anyway a pic worth a thousand words..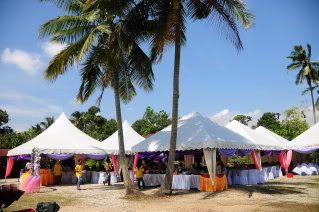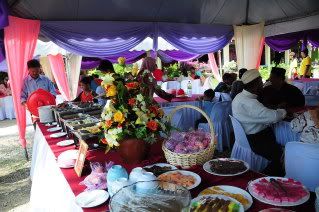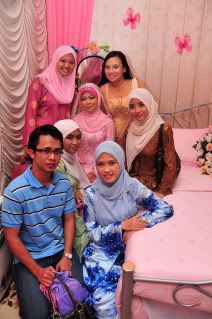 So, ni la suasana wedding di Muar dengan tema warna Pink Purple. Kawan-kawan pun sempat menyelinap masuk n wish for happiness..Thx u olls...xoxoxo
Then, selepas selesai Azan Zohor bermula perarakkan rombongan pihak lelaki dari rumah penaggah (Terima kasih kpd Mak n Ayah angkat) kerana menyediakan rumah tersebut. Alunan kompang dan gong dari Kampung sebelah, perserta silat dr persatuan silat sendeng telah menyambut kedtgn kami.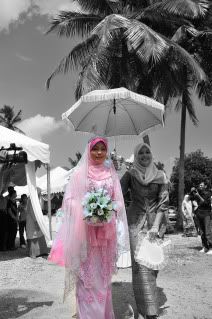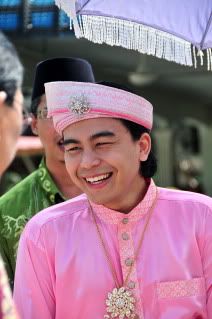 Luv this smiling face..:D
Cuaca sangat cantik ketika itu dan kami pun duduk tersipu malu2..
Selesai persembahan silat. Semua ahli rombongan dan tetamu dijemput ke ruang pelaminan utk bagi acara menyambut menantu.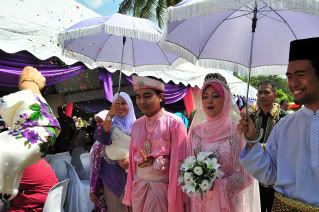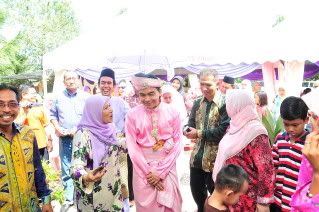 Hmmm..ni nampak jer sambut menantu dgn penuh sopan santun...tapi bila time "bayar Tol" Aiyoooo yooo...semua jadik antooo...:P (huhuh gurau jer) Masa ni lah bestt gilerrr..kalu dulu2 time my older sister siap ada pantun memantun but zaman moden ni x ramai yg fasih bab2 sastera ni so redahh jelah dengan Tol...Bape byk lapisan la rombongan lelaki nk kena Pass..Kecian lak..huhuh...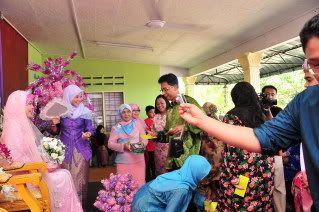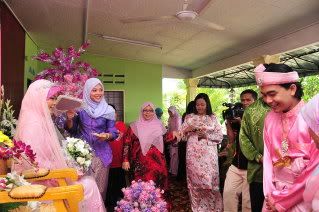 Selepas renjis-merenjis dr sanak saudara kedua2 pihak...Tetamu di jemput ke ruang makan beradab..hmmm...At this moment super terkezutt coz td masa lalu keluar x nmpk pun this kek..but suddenly time nk mkn ternmpk kek 5 tingkat yg mengikut tema (Pink Purple)..Huhuh..Ni semua selera dtg dr keluarga belah pihak perempuan..huhuh Maklumlah anak2 buah ramai...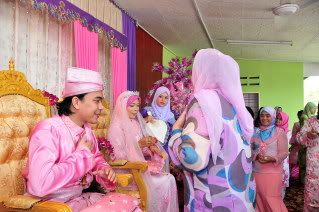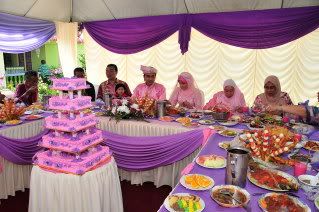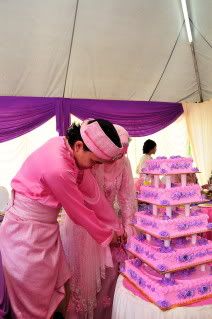 Agak sakit jantung gak nk potong kek ni sbb meja x stabil..huhuh
Terima kasih kepada sahabat-handai yg sudi dtg ke majlis kami..
Bersama FIL dan adik ipar
Bersama adik-beradik (Kak Yam, Kak Agom, Kak Ruby, Kak Ana, Abg Ayob, Abgg Mamod n Rosli) n MOST of all..ibunda tercinta...LUV U OLL SO MUCH..MUAHHHHHXXX...
Tidak dilupakan..anak2 buah yang dah besar panjang lebar semua la..Thx for u support...(X sia2 jadi baby sitter korang dulu) hmmm..bagus2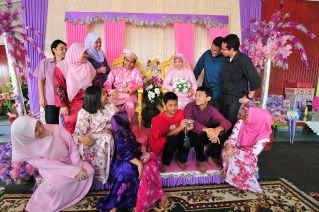 Lega sangat2 majlis dah selesai..Thanks so much from both of us..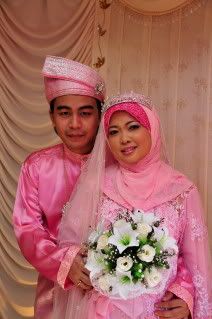 Amin..Alhamdulillah...