Seems like today I am so boring and laziness to think about researching stuff and so on..So, Im thinking of updating my rusty dusty blog and apparently I didn't write at all about my travelling adventure with my friends and family..Well, back in April, 2008 when I still active as a fellow in Kolej Pendeta Zaba, UKM. I was told to get involve with their activity programme that always held annually. And that year the committee choose to go to Indonesia and they've picked Yogyakarta. I felt so excited at that moment but at the same time I need to figure out about my financial issue (because Im a budgeting person :p). Thus, the month before we went there, I start saving and calculating my budgeting..And, everybody knows especially women...about the cloth and the textiles (the kain batik, kebaya...)there are so CHEAP! compare here in Malaysia..No offense okay, but Malaysian textiles are so EXPENSIVE..huhuhu..My expedition takes 4 days and we take Air Asia flight and landed at Solo Airport...It takes about 2 hours in the plane and my butt getting cramps..:p After the arrival, the tourist agent came and give a warm welcome...So nice of them..Each of us were given a scarf from batik that symbolize their country traditions..so sweet...
1st day trip
: we went to University of Gadjah Mada ,the largest university in Indonesia in terms of student population. It is also one of the oldest universities in the country. UGM is located in Yogyakarta, Daerah Istimewa Yogyakarta. Luv to visit here because this is one of the premier universities in Indonesia. And the academicians there are so polite and speak Malay baku very well... After briefing, I've took an opportunity to visit their faculties...huhuhu
2nd day
: Trip to Borobudur Temple. Borobudur is the biggest Buddhist temple in the ninth century. Ohh well, thats what I heard through the tourist guide...The rest info about it went directly like pouring water on Taro leaves...:P (seperti mencurah air di daun keladi)..huhuh so hilarious, I didn't keep the exact sentence in my thought to describe that proverbs..Wat eva...:D ..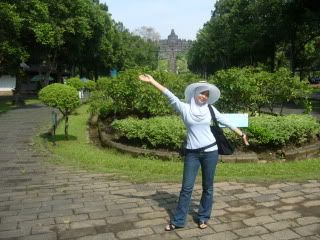 Tadaaaa...Welcome to Borobudur...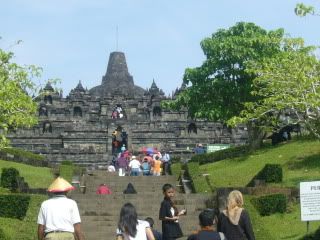 Woooo...so many tourists..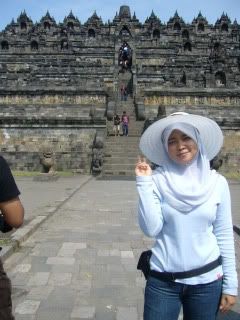 Piece...facing the Borobudur temple entrace..So hot..
The tourist guide is telling the story about that mural..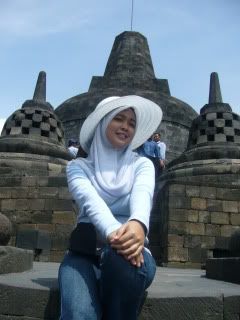 Yeah...resting n relaxing and finally get to the top of Kendil stone where you can enjoy Borobudur and the surrounding scenery.
One snap with the entourage..
Then, we went to fill up our 'battery engine' @ Nasi Padang..So hungry and the restaurant serve many dishes..yummy..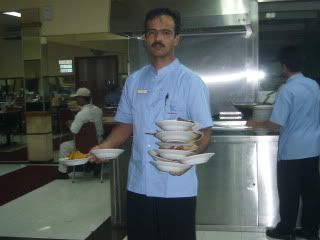 At night, me and my friends still energetic and hyperactively went to Malioboro Street. It is a major shopping street in Yogyakarta. 1st round window shopping, 2nd round bought some cloth as a souvenirs for my family and friends and most importantly for my beloved..I bought him short pants and Tshirts..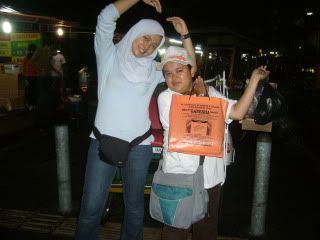 Then, along the sidewalks...I am so amuse with the street singer..They sang pretty good..Plus we end up singing together..huhuhu..Really enjoy that moment..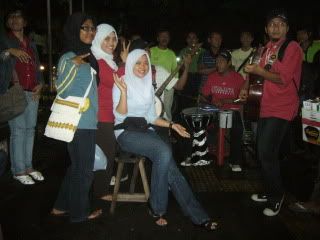 3rd day
: We went to Prambanan, the most beautiful hindu temple in the world. The temple is extraordinarily beautiful building constructed. But, while we visiting this place, some of the building were collapse because of the earth quake and need highly maintenance.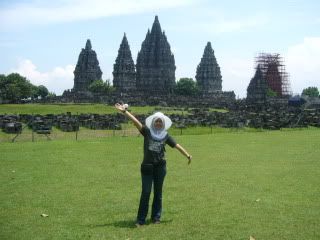 I present u..tadaaa Prambanan temple..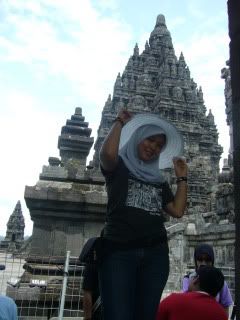 The weather pretty hotzz and u can see through my oily and shiny face..:D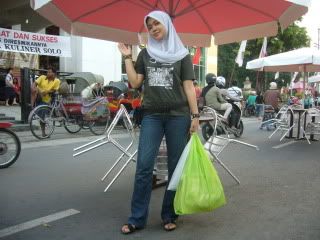 After finishing the last trip at the amazing place, me and my friends walking with super speed to avoid the seller that come over from the bushes...:P and forces us to buy their souvenirs and goods..with their passionate and puppy eyes pose plus hopingly me to buy their stuff, well I get to buy a bundle of keychain..hahaha..
Then, we went to Solo..You can buy anything made with batik in Solo. The fabrics range from silk to normal cotton. The ones made by hand (batik tulis) is of course more expensive than the ones made using the 'stamp' (batik cap).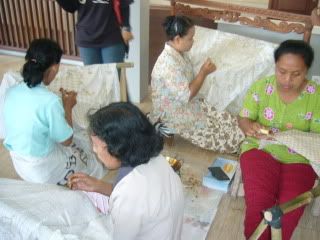 Candid picture..:P